Where We Are
---
All Capitol Hill Stay apartments are located one to five blocks from the US Capitol. This is a highly desired location. It is a ten-minute walk to two metros, dozens of restaurants, shops, and amenities. Capitol Hill has become a highly sought-after 'destination' neighborhood.
Capitol Hill is of course internationally known because of the Capitol building and the National Mall. But it's also a highly sought after neighborhood in its own right. It just so happens that it sits directly in the exact geographic center of the entire Washington DC region.
You are in the heart of the nation's capital, with easy access to world-class restaurants and museums, in one of the most charming neighborhoods in any American city. Pennsylvania Avenue, Eastern Market, Barracks Row, H Street, are all within blocks of our properties.
This area is home to countless high-profile politicians and media and as such, the US Capitol Police and federal security presence is a unique added bonus. Thus, it's an ideal location for short-term lodging in the Washington DC area.
Capitol Hill is a huge neighborhood, made up of many smaller neighborhoods. Generally speaking, the 'close-in' area between the Capitol and Eastern Market (where all Capitol Hill Stay properties are) is the most sought-after.
Is it more expensive? Yes. Is it worth it? Yes.
We chose this neighborhood very carefully. You may find cheaper lodging in other neighborhoods or even in other parts of Capitol Hill (further from the Capitol), but the old adage that 'you get what you pay for' is very true in Washington, DC."
Legend:
1. On the map below click on the
icon on the left of the map to expand more options and see complete list.
2. On the map below click on the
icon on the right of the map to enlarge the map.
All CHS Properties are Located in 'close-in' Capitol Hill,
Within Five Blocks of the US Capitol Grounds.
Furnished Apartments on Capitol Hill
Short Term Furnished Rental
Washington Short Term Housing

GEOGRAPHIC LOCATION
Capitol Hill is the geographic center of the Washington, DC, area. It's adjacent to the US Capitol, Supreme Court, Library of Congress, and Senate and House office buildings. Unquestionably the heart of DC  – the four quadrants of the city all branch out from the US Capitol building itself.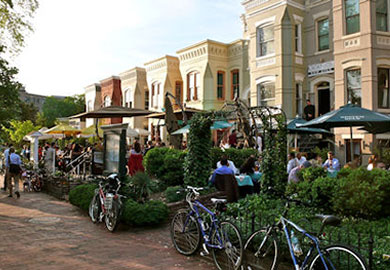 TRANSPORTATION
Capitol Hill has excellent Metro subway service.  Orange and blue lines Capitol South and Eastern Market Metro and red line at Union Station  are a five to ten minute walk.    DC Circulator stops are also easily accessible from any of our properties. Capital Bikeshare bikes are within a block from our properties. Lyft Scooters can also be found all over the neighborhood and can be rented via the Lyft App. Capitol Hill  has the best interstate access of any in-town neighborhood.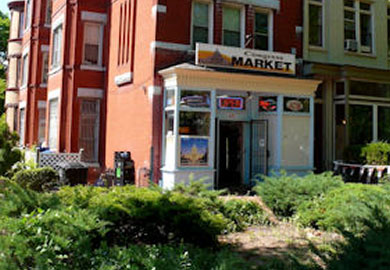 Historic Urban Village – Big City Amenities
Everything you need is right here. Countless restaurants that offer  everything from world-class fine dining to local diners, first rate fitness facilities, and lots of eclectic shopping.  Grocery, dining, and entertainment options are excellent.
Grocery & Daily Needs in the 400 block of East Capitol Street
This gorgeous tree-lined commercial block is right around the corner from CHS properties (some directly across the street). The ultimate convenience of getting daily items from local merchants super close by.
The Corner Market (small but well stocked corner grocery.  Also has ATM inside)
Jimmy Ts Diner (great locally run no-frills breakfast and lunch places – closed Monday and Tuesday)
Grubbs Pharmacy (full pharmacy plus various medical supplies, an ice cream shop, etc.)
Click HERE for Google Maps link to see this block.
Numerous Grocery Options
In addition to the corner grocery stores there are first-rate grocery options in the neighborhood.
Large Market Options
Eastern Market and Union Market,   Both offer fresh produce, meats, local bakers, regional artisans, etc.
Whole Foods, and  Giant Supermarket,   Also Trader Joes  (conveniently located very near Eastern Market)
Corner Grocery Options
Great corner bodegas include The Corner Market (small but well stocked corner grocery at 4th and East Capitol and Capitol Hill Supermarket (larger corner grocery at 3rd and Massachusetts Ave NE)
Restaurants & Nightlife
Capitol Hill has become a trendy 'destination neighborhood' for dining and nightlife. Everything from Best Restaurant in DC to great corner diners, from historic neighborhood dive bars to the latest cocktail bars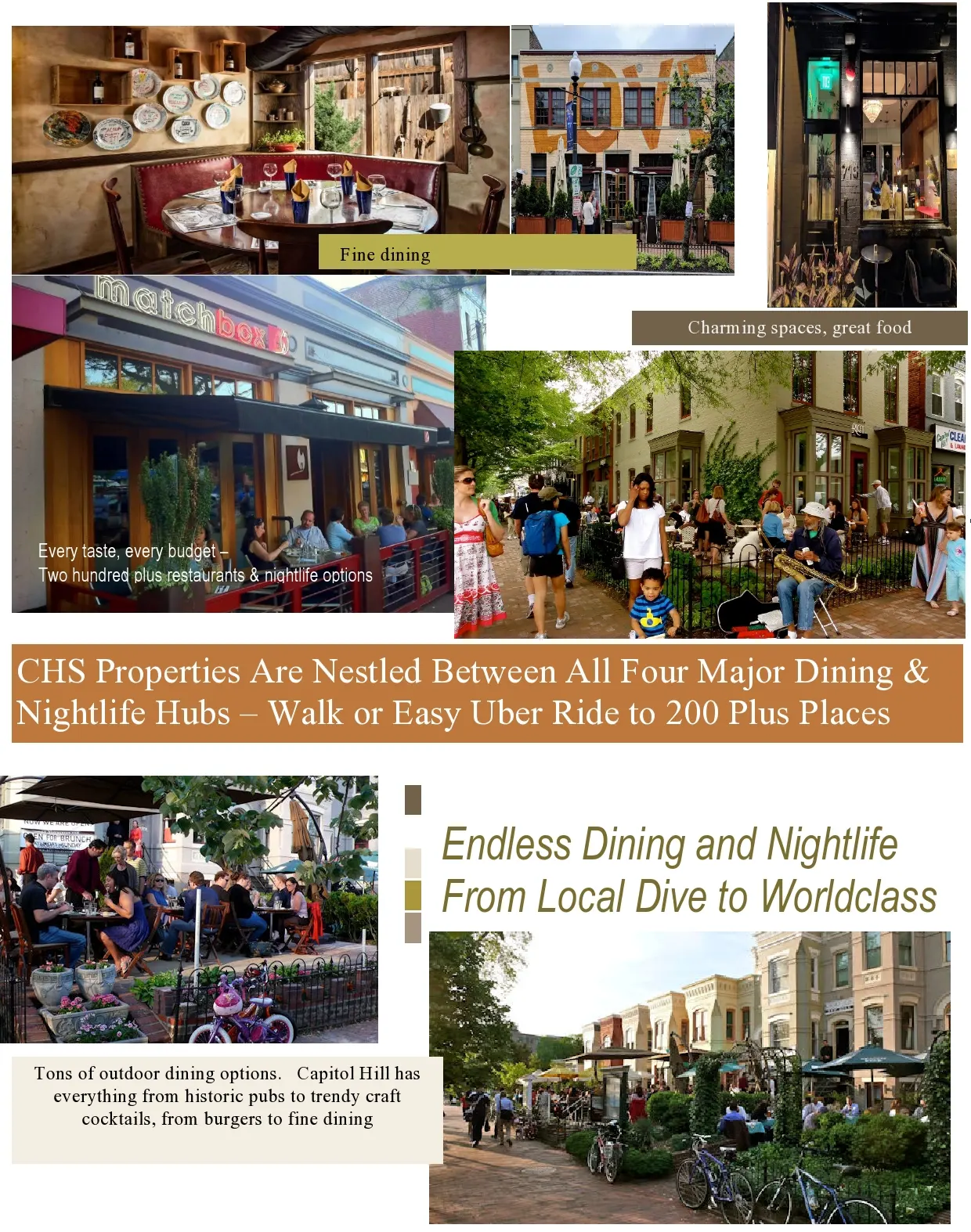 It's hard to pick just a few favorite places.  But here is a short list
Massachusetts Ave NE
Bliss Cafe (coffee shop and sandwiches)
Cafe Berlin (excellent German cuisine in a townhouse with gorgeous outdoor seating)
Bistro Cacao (fine French dining, charming both inside and outside dining)
Pennsylvania Ave SE
Aatish (casual Indian and Pakistani…. don't let the bare bones interior fool you,  the food is excellent)
Hawk & Dove (upscale pub food and drinks, has been a fixture on Capitol Hill for decades)
Barracks Row
Ted's Bulletin (eclectic American food, great breakfasts, beautiful historic setting)
Matchbox (high energy, good food, great for people watching)
Crazy Aunt Helen's  (eclectic, charming, interesting menu)
Ophelia's Fish House (great seafood)
Parks & Fitness
Capitol Hill is a walkers paradise. Beautiful tree-lined streets, lots of bike and jogging lanes. Beautiful Stanton Park and Lincoln Park within blocks. Walk the Capitol grounds. Jog or bike the National Mall.
Dogs are allowed at Stanton Park, Lincoln Park, on the Capitol grounds (outside of course), and on the National Mall.  They must be leashed.  However on the East side Stanton Park and Lincoln Park you will often find groups of locals selectively unleashing well-behaved dogs.  Also Congressional Cemetery has a famous dog program
We also have several gyms, including world-class Capitol Hill Sport & Health.   Balance Gym ,  several locations of OrangeTheory Fitness  and Crossfit.    Various yoga and other neighborhood fitness programs as well
Cool Neighborhood Stuff
Gorgeous tree-lined streets, Eastern Market, stunning views of National Monuments, National Mall, Congressional Cemetery, cool yoga studios.